I was dragged almost kicking and screaming in the world of global health when EUCLID decided to open a School of Global Health and Bioethics in 2014. In my capacity as International Faculty Coordinator and general methodology advisor for doctoral students, I was hoping that only minor "continuing professional education" courses would be sufficient to manage. I began with a number of Coursera courses (with fancy certificates from famous universities), ended up doing a full MPH on the EUCLID faculty track, and then continued with a Ph.D. in Public Health from UCN…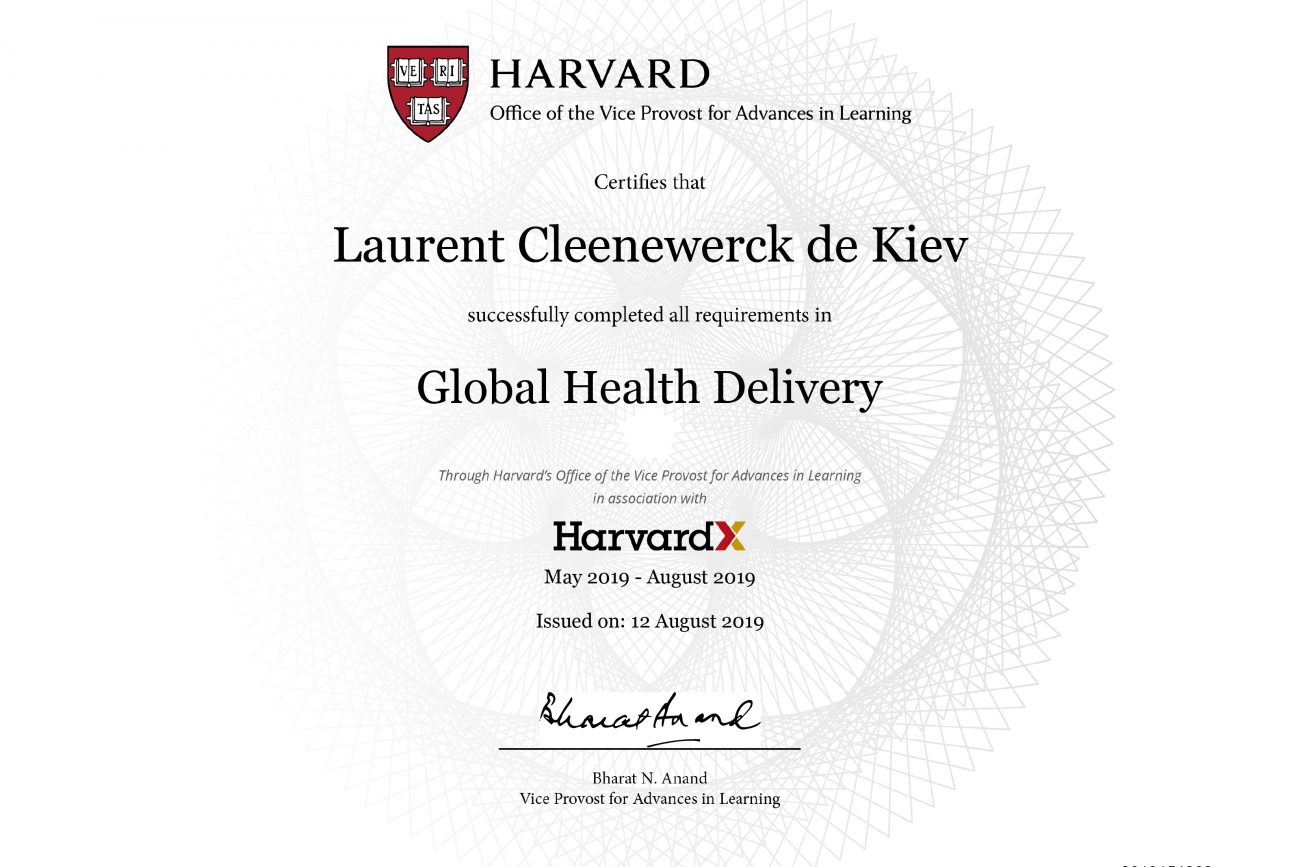 I completed the PhD in Public in 2022 a with dissertation on a vaccine-related topic such as comparative vaccine hesitancy. It is actually a fascinating discipline for which my background in mathematics was very helpful (biostatistics can be pretty tough) in my previous work in international bioethics (HBTO) a good match.
I would also like to write something on religion and bioethics in public health, but this might just be too controversial these days. Back in 2010-2011, I had also contributed to two articles dealing with ethical considerations associated with heart-transplants, as part of a Cedar Sinai cardiology group of researchers… Some of my related publications are listed and linked below.

RELATED CERTIFICATES/DEGREES:
Global Health Delivery (post-graduate certificate)

Harvard University (HarvardX)

Bioethics: The Law, Medicine, and Ethics of Reproductive Technologies and Genetics, 2018 (current)

Harvard University (HarvardX)

Ethical and Social Challenges of Genomic and Precision Medicine, 2017

UCSF (University of California, San Francisco)

Genomic and Precision Medicine, 2017

UCSF (University of California, San Francisco)

Global Health Diplomacy, 2017

The State University of New York

The Challenges of Global Health, 2015
Essentials of Global Health, 2017
Clinical Epidemiology, 2016
Global Health: An Interdisciplinary Overview, 2016
RELATED PUBLICATIONS:
Tuberculosis Screening On Admission To Sierra Leone's Correctional Facilities: A Swoc Analysis. S Pape, SDT Ngaujah, K Gulma, S Shivalli, LC de Kiev
Quo Vadis, Dottore? Religious, Philosophical and Medical Perspectives on the Quest for Immortality. With von Schwarz ER, Franco M, Busse N, Bidzhoian S, Schwarz AA.
Diagnostic accuracy of screening algorithms to identify persons with active pulmonary tuberculosis at prison entry: protocol of a systematic review and network meta-analysis. With S Pape, K Gulma, S Shivalli, LC de Kiev. Journal of medicine and life 15 (12), 1464
Barriers to optimal AEFI surveillance and documentation in Nigeria: Findings from a qualitative survey. With Semeeh Akinwale Omoleke 1, Moyosola Bamidele
A retrospective clinical, multi-center cross-sectional study to assess the severity and sequela of Noma/Cancrum oris in Ethiopia. With Heron Gezahegn Gebretsadik
Polio outbreaks in Cameroon following the COVID-19 pandemic. With AA Njoh, TSNJ Kedakse, EE Mboke, R Nembot, LYP Collins, A Amani
Malaria Prevention Measures among Pregnant Women: A Population-Based Survey in Nnewi, Nigeria. Scientific World Journal (2019), with co-authors
Performance Assessment of Six Public Health Programs in Katsina State, Nigeria. International Journal of Public Health Science (2019), with co-authors
The Eclipse of Eucharistic and Holographic Ecclesiology in Contemporary Orthodox Ecclesiology: Ukrainian and Global Consequences, a paper presented in person and by invitation at the annual meeting of the Orthodox Theological Society of America (2019)
The recovery of Eucharistic and Holography Ecclesiology as a promising avenue of ecumenical dialogue and broader mutual recognition (with Ernst R. Schwarz, MD, PhD) in the Journal of Ecumenical Studies
The Importance of Spirituality and Religion on Outcomes in Patients with Chronic Heart Failure (with Jesse J. Naghi, MD, Kiran J. Philip, MD, and Ernst R. Schwarz, MD, PhD) in the Journal of Religion and Health
Philosophical implications of the systemic and patient-oriented management of chronic heart failure (with Ernst R. Schwarz, MD, PhD, Anita Phan, MD, Russell Hobbs, DTh) in the Journal of Religion and Health
Maximal care considerations when treating end-stage heart failure patients: Ethical and procedural quandaries in management of the very sick, (with Dr. Ernst Schwarz et al.) in the Journal of Religion and Health
Last modified: September 18, 2023